Get Tested For Sleep Apnea From The Comfort Of Home
If you have undiagnosed sleep apnea, a home test may put you on the path to:
Get Diagnosed
& Begin Treatment
Start
Sleeping Better
Wake Up
More Refreshed
Make Your Sleep Partner Happy
Order Test Now $249.99

And Get Your Results In As Soon As 14 days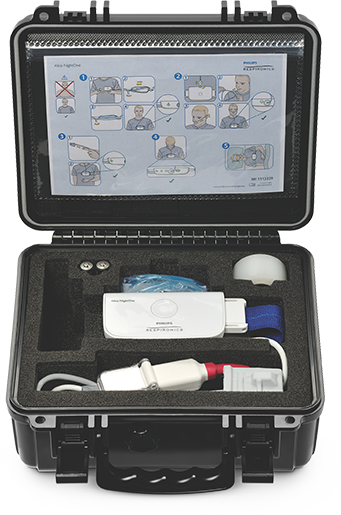 Board Certified
Sleep Specialists
Secured Payments &
Protected Privacy
FDA Cleared
Device
Free And Fast
Shipping
What Is Sleep Apnea?
Symptoms And Health Risks

Sleep apnea is a potentially serious sleep disorder in which breathing repeatedly stops and starts. If you snore loudly and feel tired even after a full night's sleep, you might have sleep apnea.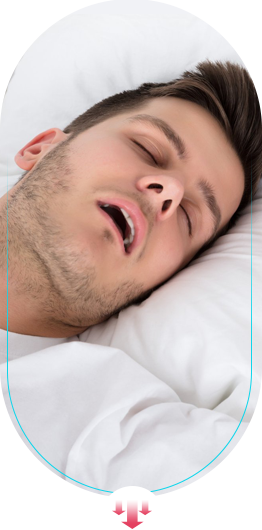 Symptoms &
Risk Factors
Excessive Snoring

Overweight

Been told you stop breathing in the
middle of the night

Excessive daytime sleepiness

High Blood Pressure

Atrial Fibrillation
Untreated Sleep Apnea Is Associated With
Increased Risk of Heart Failure

Increased Risk of High Blood Pressure

Increased Risk of Stroke

Increased Risk of Diabetes

Increased Mortality

Increased Weight Gain
The First Step To Treat Sleep Apnea
Is To Get The Right Diagnosis
Why a Home Sleep Study
Save time & do on your schedule

Home sleep apnea testing is a convenient and cost-effective means of providing a board-certified sleep physician with the information they need to diagnose obstructive sleep apnea—the most common sleep disorder.
The in-home sleep study records all the data needed to diagnose obstructive sleep apnea and help a physician understand if treatment is appropriate.
Sleep In Your Own Bed, Not A Strange Lab
Results in Days Not Months
No Co-Pays
No Prior Authorizations
Meets DOT FMCSA criteria
Order Test Now $249.99

And Get Your Results In As Soon As 14 days
How It Works
The Home Sleep Apnea Test Process

Your home sleep test will be shipped to your home with easy instructions that ask you to place a belt around your midsection, a clip on your finger, and a sensor under your nose during a night of sleep. Data collected includes: oxygen saturation, airflow, heart rate, episodes of snoring, and movement in your chest and abdomen. The device also records body position and uses it to determine your session and sleep/wake periods.
In the event that your test does not record enough data, you will be asked to repeat the study at no charge. Your test will be reviewed and your results, including a potential diagnosis of sleep apnea, will be provided by a board-certified sleep doctor. If you are diagnosed with sleep apnea you will be advised to see a sleep physician to discuss appropriate therapy.
Step 1

Purchase
Your Test

Step 2

Test Kit Arrives At Your Address In 7-10 days

Step 3

Take Your Test In
Comfort of Home

Step 4

Return Test Kit
Within 7 Days

Step 5

Get Your Results Via Email 24-48 hrs After Kit Is Checked-in
Order Test Now $249.99

And Get Your Results In As Soon As 14 days
Our Commitment to your Sleep
A message from Dr. Gene

"As a pulmonary physician with years of clinical experience, I know that untreated sleep apnea does more than make you sleepy. Left untreated, it can contribute to heart disease, diabetes, other long-term health risks, and it may shorten your life. I also know that in our current system it may take three to four office visits and multiple insurance authorizations over months to get diagnosed and begin therapy.
At our company, our mission is to help you sleep better. It is estimated that more than 22 million Americans suffer from sleep apnea. Are you one of them? A home sleep study is designed to diagnose sleep apnea. We have made it easy for you to purchase a study done in the comfort of your own home and interpreted by a Board Certified sleep specialist. Are you ready to take control of your health? The first step to diagnosis is a sleep study and we're committed to decreasing the number of people that go untreated."
Dr. Eugene Spiritus
Chief Medical Officer of SleepWatch
Frequently Asked Questions

Order Test Now $249.99

And Get Your Results In As Soon As 14 days